China plans to produce 100,000 industrial robots every year by 2020, or 150 robots per 10,000 employees.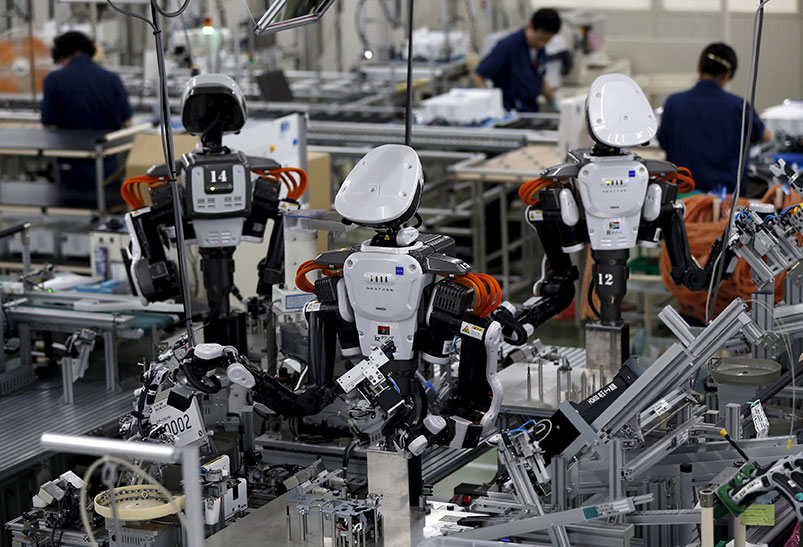 A factory full of robots instead of humans may seem like something out of a science fiction movie, but in China, it is already becoming a reality.
The rise of robotics in Chinese manufacturing is part of the government's latest five-year plan, which aims to produce 100,000 industrial robots annually by 2020, reaching a density of 150 robots per 10,000 employees.
China is the number one market for robots, with sales seeing a 20 per cent uptick in 2015 with 68,600 units, more volume than all of Europe combined, according to the International Federation of Robotics (IFR).
"This rapid development [in China] is unique in the history of robotics," an IFR report said. "There has never been such a dynamic rise in such a short period of time in any other market."
Particularly in the Pearl River Delta, the country's number one hub for labour-intensive production, manufacturers are increasingly replacing human labour with robots.
The use of robotics was not popular even five years ago, said Xi Ning, chair professor of robotics and automation at the University of Hong Kong (HKU). But the new wave of technological developments and the need for Chinese manufacturing to regain its "competitive advantage" have spurred government subsidies for the industry and a recommitment to see the sector flourish.
Guangdong announced last year it would spend 943 billion yuan (HK$1.1 trillion) to undergo this process over a three-year span, and Guangzhou aims to automate over 80 per cent of the city's manufacturing by 2020.
In Dongguan, over 60 per cent of the industrial enterprises have used robots instead of humans, and Foshan hopes its automation and robotics market will be worth 300 billion yuan by 2020.
Now, Hong Kong is also hopping on this robotics wave.
The city's dynamism and its connection to the global investment technology community allowed artificial intelligence (AI) to grow, and show itself as a necessity, Xi said.
"Major industries in Hong Kong right now [are] facing a huge labour shortage," he told the Post. "All of this [means] they want to use advanced technology like AI and robotics to solve this kind of problem ... they desperately need robots."
Last year, 96 per cent of the city's use of industrial robots were in the electronics industry — around 64 per cent of its total exports — but it has yet to utilise robotics in automotive, chemical, metal, and food and beverage production, according to IFR data.
One of the tech companies working to tap into the city's potential is Hong Kong-based Hanson Robotics, where founder and CEO David Hanson previously told the Post he wants to create a robotics hub, since the city has "a lot of expertise and design infrastructure."
Hanson Robotics, which builds interactive and lifelike robots, touts Hong Kong's location "on the doorstep of the 'world's toy factory'" in Guangdong, where it has helped engineer and manufacture robotic toys.
"The rich electromechanical know-how in Guangdong is analogous for robotics to the depth of IT know-how in Silicon Valley," the company's website says. "Guangdong toy engineers and factories are uniquely capable of designing and building high performance, inexpensive, reliable and scalable products."
As a gateway of sorts between mainland China and the rest of the world, Hong Kong is in a unique position to deploy the power of robotics, particularly with its established financial services industry and talent pool, Xi said.
"The mainland industry needs these kinds of resources, this kind of complement with what the mainland has," he said.
Shenzhen-based tech innovation platform IngDan does this as "the semiconductor" connecting Chinese robotics start-ups with global resources and overseas funding. IngDan, backed by Hong Kong-listed Cogobuy, announced in July a partnership with Intel Corp and Japanese robotics suppliers to create a robotics ecosystem.
"This is a pumping industry," Novam Ng, marketing director of IngDan, said. "Manufacturers are looking for robotics system for their production line, solving the problem of manpower shortage and [fulfilling] the needs from the innovators for some high-tech detailed device."
IngDan's platform has 13,000 Internet of Things (IoT) projects — the connectivity of physical devices — and over 14,000 suppliers, while supporting various robotics projects from the supply chain to the market. The company announced also a US$50 million fund for hardware start-ups focused on smart devices or technologies.
Industrial robots help increase "labour productivity, total factor productivity, and wages," a recent report by Guy Michaels, professor at the London School of Economics, found.
For instance, Foshan-based LXD Robotics' robots cost between 800,000 to 1.5 million yuan, but can replace as many as six humans.
But these robots reduce the employment of low-skilled workers, Michaels said.
While certain individuals may be replaced by robots — a truck driver put out of work by an autonomous truck — societies as a whole see a total net gain of jobs because robotics improves productivity, creating more opportunities, Xi said.
Most of the industry's focus has been on industrial robots and consumer robots such as drones and vacuum cleaners, but "there is now an increasing focus on service robots," Dr. Jeanne Lim, chief marketing officer of Hanson Robotics, said.
For personal robots in the consumer space, the market is expected to exceed US$10 billion in the next three years, while analysts say service robots could be worth over US$17 billion in three years, according to Lim.
"We are already seeing a lot of demand for service robots in a broad range of applications," she said. "These applications are relevant to a broad range of industries."
"We found there are a lots of opportunities in robotics, no matter [whether it is] consumer or industrial robots, both of them have a large demand in these two years," Ng added.
While China is still catching up to Europe in terms of techniques for manufacturing automation, it is poised to make up 40 per cent of global sales of robots by 2019, according to IFR data.
"Right now, China is not just the biggest robot market, also the biggest producer," Xi said. "This is a very historic opportunity and very historic time for the development of robotics technology."