Sustainable Financing Programme
Our Sustainable Financing Programme provides financial support and recognition for customers investing in eco-friendly equipment and adopting a sustainable way of doing business. You may apply for facilities under the Sustainable Financing Programme if the equipment to be purchased or upgraded can contribute to reducing carbon emission.
Features of Sustainable Financing
Flexible instalment loans, hire purchase or leasing to fit your unique business needs
Get financing of up to 100% of the purchase price of the machine, equipment or installation and the capital expenditure incidental to the installation and proper functioning of the equipment
Minimum financing amount: HK$1,000,000
Repayment period of up to five years
Extra offers
Carbon saving* (in form of cash rebate) of up to 0.1% of financing amount per annum
Free Environmental Awareness Training provided by the Business Environment Council (BEC)
A "Certificate of Participation" in recognition of your company's contribution to sustainable development
Eligibility criteria
Applicants who acquire machine, equipment or installation with expected carbon emission reduction based on the Business Environment Council's‡ environmental merit assessment result are eligible. Typical examples include:
Use of renewable energy and / or energy source with less carbon dioxide emission
More energy-efficient machine or equipment
Sewage management system
Environmental merit assessment
Each application will go through an environmental merit assessment conducted by the Business Environment Council.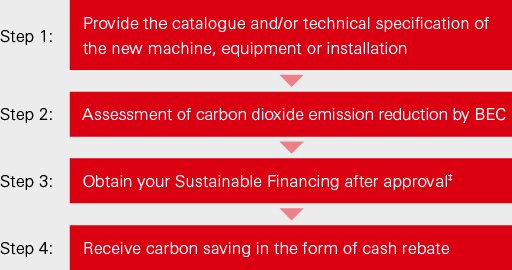 Apply now
We are always here to support businesses towards a sustainable future. Please contact your Relationship Manager or call 2748 8238 for more details.
Reminder: "To borrow or not to borrow? Borrow only if you can repay!"